Different implant solutions
One tooth
A missing front tooth can be replaced with a denture, bridge or dental implant. One of the advantages of a dental implant is that it does not require the teeth either side of the space to be drilled down. It also stimulates and maintains the bone around it to give a very natural appearance. A dental implant is the only reliable, permanent solution to replace a missing tooth that also prevents further tooth loss...
Multiple Dental Implants
Having multiple missing teeth can have an impact on both your confidence and wellbeing. People with missing teeth often suffer anxiety and try to avoid smiling and laughing in order to hide their gaps. Each tooth in the mouth serves a purpose when slicing and chewing your food – depending on which teeth you are missing, this can have a significant impact on your ability to chew...
All top and/or bottom teeth Missing
As few as two dental implants can be used to stabilise a denture in your upper or lower jaw. We have multiple solutions for fixing a denture to your upper or lower jaw including: locator attachment, telescoping attachments and retention bars. It is also possible to secure a full arch bridge using between four and eight implants – this is the optimum solution and removes the need for a denture...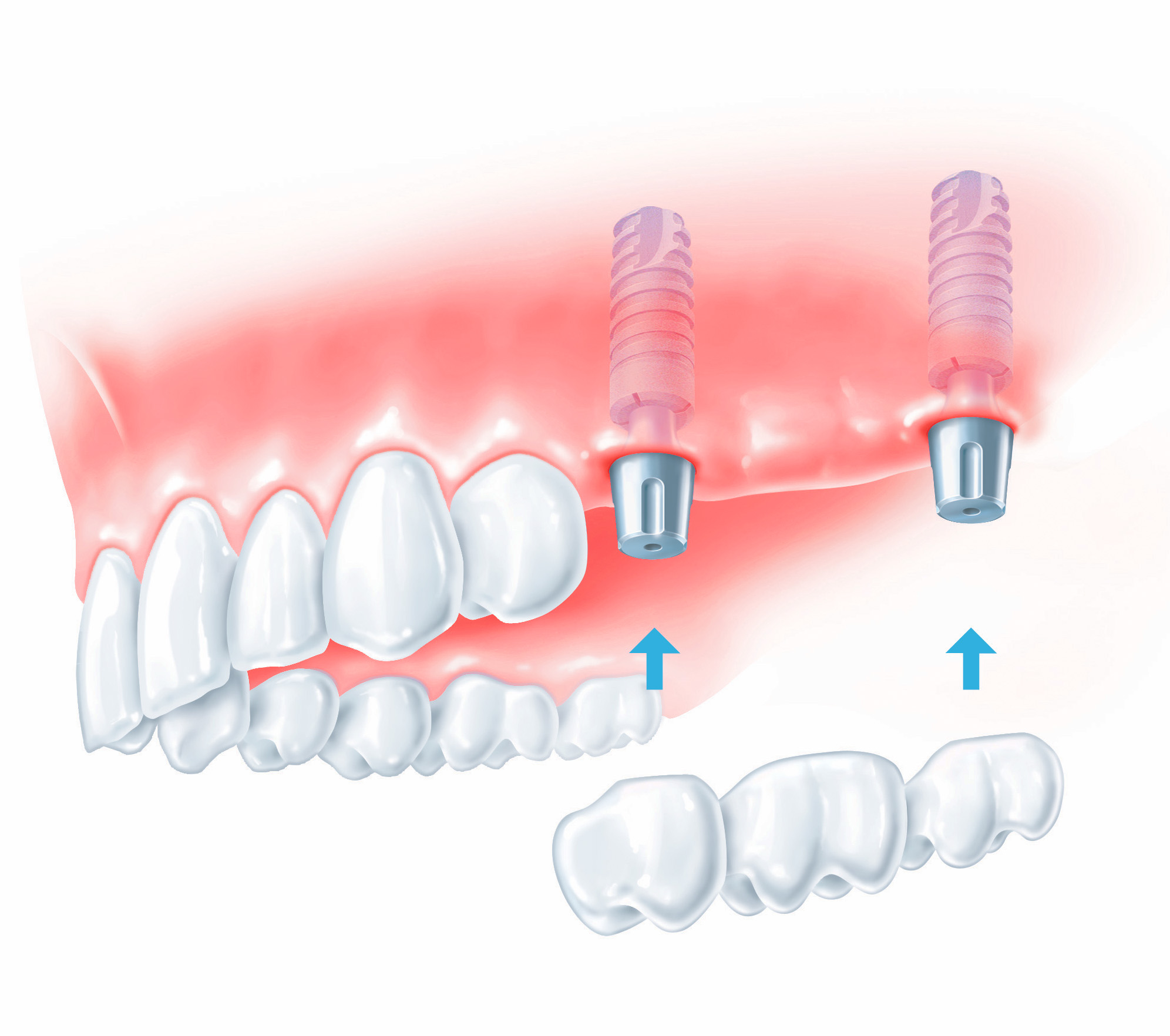 Implant Fixed Bridge
An implant fixed bridge can be used to replace multiple missing teeth with fewer implants. This is possible through creating a bridge of three or more teeth that can then be fixed with two or more implants. It is also possible to create a bridge to replace two adjacent missing teeth with a single implant by fixing it to an implant on one side and an existing real tooth on the other...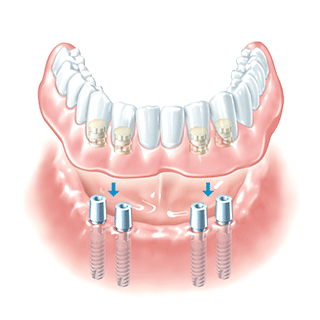 Implant fixed denture
Denture wearers often suffer an impaired ability to chew certain tough or sticky foods, such as steak or toffee. A popular and cost effective method of replacing all top and/or bottom teeth is to have a permanent or removable implant fixed denture. A denture can be fixed with as few as two dental implants which is significantly fewer than fixing a full arch.
Same Day Dental Implants
Ten Implant Centre has the expertise and equipment required to be able to replace missing teeth in one day with dental implants and temporary crowns / bridges. Prior to coming in for your surgery, our dental team will have designed and prepared a temporary crown, bridge or denture. On the day of your surgery you will have your implants placed and temporary crown, temporary bridge or permanent denture fitted.
FAQ
Is timing important?
The bone around a tooth begins to diminish as soon as that tooth is lost. The sooner an implant can be placed, the more chance there is to save the bone and achieve the optimum outcome for a patient.

How long do they last?
Dental implants have an excellent success rate. However, just like natural teeth, they need to be cared for; it is important to always maintain a good standard of oral hygiene.

Does the treatment hurt?
In most cases, implants are placed under a local anaesthetic. After this small operation, a patient is likely to experience minor discomfort which can generally be treated using over-the-counter painkillers. If you are a nervous patient, we can place you under sedation (also know as twilight sleep) during the treatment.

Is it expensive?
Each patient's case is different with a unique set of considerations, therefore we are not able to set a standard fee and instead can only offer a guide price. Once you have come in for a consultation, we will tailor a plan specifically for your proposed treatment including a comprehensive quotation.

The cost of an implant is often not that dissimilar to the cost of crown and bridge restorations. The improved quality of life that an implant can provide should be factored in when examining costs; implants are a long-term investment in your health and happiness.
Locator attachments
On your lower jaw, we are able to restore functionality of your bite by stabilising your denture using locator attachments.

Using a minimum of 2 implants on the lower jaw, the locator attachments fit onto your implants and your denture in turn, clips onto the attachments and is held in place.

This will stop the denture moving and give you the ability to chew without irritation to the gum.
Telescopic attachments (syncone)
We can use 4 implants on either top or lower jaw with telescopic attachments to hold your denture securely. On the upper jaw, this will allow you to have a palate free denture.

In addition, we can reinforce and strengthen the palate free denture to make it a very slender, discrete removable bridge. It fits firmly and snugly and can be taken out at home to clean; it's fixed but removable.
Retention bars
We can further improve the retention of your denture by using bars linking the implants.

This is slightly more expensive solution, but the higher investment , means a more firmly fixed denture.
Fixed bridge and same day teeth
The optimum solution, would be to have fully functioning fixed teeth.

We can do this using between 4 and 8 implants (on each jaw) to hold a bridge which is either cemented or screwed into position.

This doesn't need to be removed for cleaning and can be treated and functions like natural teeth.

In some cases, we can remove any loose or failing teeth, place the implants and make a provisional fixed bridge all on the same day meaning there is no need to ever have a denture.
View case study
Price
Contact us for guide prices – for full cost breakdown you will need to have a consultation with implantologist.
The process
Find out more about the process of getting implants, how they work and other frequently asked questions.
View process
© Copyright 2023 ten dental. all rights reserved|Website by &Agency