Dental Implants Balham
Teeth implants Balham
State of the art treatment centre in Balham
Ten Implant Centre has a modern, state of the art treatment centre in Balham, which offers you expert award-winning dental implant treatment. If you have missing teeth, dental implants can transform your life restoring your confidence and ability to chew and eat the foods you love again. They can also help stop facial distortion caused by tooth loss and give the smile you've always dreamed of.
The staff at Ten Dental Implants Balham, keep up to date with the latest treatment techniques to ensure your time with us is as relaxed as possible. We also use the latest technology providing you with the most up to date treatment available. Throughout the process, we keep you fully informed giving you all the support you require before, during and after your treatment.
Our dental implant treatments
A long-term, permanent, modern solution for tooth loss, dental implants look and feel like real teeth. Some of the dental implant treatment we provide at Ten Implant Centre is outlined below:
Single dental implants
Some of our patients tell us that having dental implants is like having their teeth back again. They look, feel and function naturally so are the perfect treatment solution to replace a single tooth, especially any that are visible.
Multiple teeth implants Balham
If you have missing teeth it can make you more anxious and more difficult to eat hard foods such as carrots, steak and crusty bread. We have a wide range of dental implant treatments which restore your confidence and ability to chew.
Replacing all top and bottom teeth
We offer a wide range of full mouth dental implant solutions for the upper and lower jaw from an implant fixed bridge to implant fixed dentures. Kick your dentures into touch with our treatment and eat the foods you love again whilst smiling with confidence.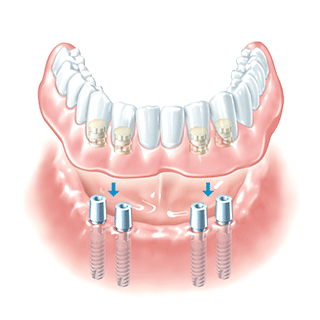 Same day dental implants
We have all the necessary expertise and equipment to replace your missing teeth in a day. Before any dental implant surgery, we will have a temporary crown, bridge or denture which we will fit for you to be able to wear during the healing process.
Treatment from leading dental implant surgeons
You can access treatment from two of the UK's top dental implant surgeons - Dr Martin Wanendeya and Dr Nikhil Sisodia - at Ten Implant Centre's Balham practice. Find out more below:
Dr Martin Wanendeya
Implant Surgeon
Martin is an award-winning dental implant surgeon. He tutors at the Royal College of Surgeons, teaching dental implantology to other dentists. Aside from his work for Ten Implant Centre, Martin is also an Association of Dental Implantology mentor and teaches on the Implant Restoration Course.
Dr Nikhil Sisodia
Implant Surgeon
A former president of the British Academy of Cosmetic Dentistry, Nik lectures around the world on all aspects of dental implantology. An Association of Dental Implantology mentor, Nik teaches on the Implant Restoration Course and is also an advisor to Dentsply Implants, testing their new products.
Claim your free consultation
We would like to invite you to contact us for a free dental implant treatment consultation. One of our dedicated team of treatment coordinators at our Balham treatment centre will be happy to talk to you about your requirements. Fill out the form below, or give us a call on +44 (0)203 432 9581.
© Copyright 2023 ten dental. all rights reserved|Website by &Agency